National Osteopathic Medicine (NOM) Week takes place April 15-21, 2018. NOM Week brings the osteopathic medical profession together to focus on one common goal – increasing awareness of osteopathic medicine and DOs in communities across the country.
Members of LECOM at Seton Hill's SGA and Class Officers were present at the Greensburg City Hall meeting on April 9th, 2018, to have Mayor Bell sign a proclamation declaring April 15-21, 2018 National Osteopathic Medicine Week in Greensburg, as it is celebrated nationally.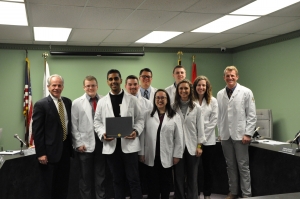 From left to right: Greensburg Mayor Robert L. Bell, Max Brown (SGA Treasurer), Prabhdeep Singh (Class of 2021 President), Bradley Winegardner (Class of 2021 Vice President 1), Chris Iames (SGA President), Sabrina Libretti (SGA and Class of 2021 Secretary), Natalie Smith (outgoing SGA President), Matt Myers (outgoing SGA Secretary and Webmaster), Kayla St. Lucia (SGA Vice President 2), and Max Jacobs (Class of 2020 President).